Remodeling Round-up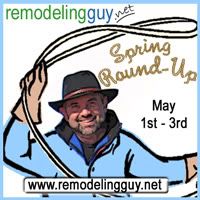 You are probably sick of my remodeling pictures but when you put as much work as we have into this house you are very proud of it! For those of you that are new to my blog- let me bore you. We sold our house in the country and we worked really hard to renovate my parent's house into a two family home. They lived in this great old house that used to be a school.
story
of the house you know that we had already done massive amounts of work on this house. But we were up to the challenge. My vision was to get 2 bedrooms, a bathroom, a walk in closet and a hall with laundry room out of this room. I think we did pretty well.
Entrance To Bedrooms

You can check out
this post
and
this post
to see other parts of the house. Now go enjoy some more at the
Remodeling Guy
.